Oktoberfest of Richmond, Inc.
53rd Richmond Oktoberfest
20 and 21 October 2023
Dear Oktoberfest Friends,
After having the Oktoberfest at the Richmond Raceway Complex for several years, we have been forced to move to a new location. We performed an exhaustive search in the Richmond area and determined that there were no existing venues that were both suitable and affordable locations to hold the Oktoberfest.  It has been decided that the 53rd Annual Richmond Oktoberfest will be held in the Farm Bureau Center at the Meadow Event Park, in Doswell, Virginia.
The Oktoberfest will be held on:
Friday the 20th of October, 2023 from 6:00 pm to 11:00 pm
and
Saturday the 21st of October, 2023 from 3:00 pm to 11:00 pm
Location:
FARM BUREAU CENTER
Meadow Event Park
13191 Dawn Blvd
Doswell, Virginia 23047

Here is what you can expect:
"Die lustigen Almdudler" – one of the Best German Party Bands.
Local Brass Band – the ACCA Sauerkraut Band.
Bavarian Dancers – S.G.T.E.V. Hirschjäger Bavarian Dancers
Beer Garden Music – Dan Smith will entertain you in the Biergarten.
Drinks:
A variety of German beer from three of the best known German breweries: Warsteiner, Paulaner and Bitburger. (including Oktoberfest style, Pilsners, Lagers, Hefe – Weisse, Marzens, Dunkels and non-alcoholic beers.
German wines for your enjoyment.
Pepsi branded soft drinks, water, and coffee.
Great Food:
Bratwurst, Knackwurst, Weisswurst (with all sausages produced by Usinger's of Wisconsin), roast pork, and broiled chicken. Side dishes include Sauerkraut, Potato Salad, and red cabbage.
Our snack bar will have freshly-made German potato pancakes, all sorts of filled pretzels, hot dogs and more!
Cakes and Pastries:
The bakery, by Reinecker's Bakery of Macedonia, Ohio, will have a large selection of freshly baked German tortes, pastry, and breads.
Our café, where you can enjoy your pastry, coffee, and wine.
Program:
Great Party Music for dancing and your listening enjoyment.
Kinder Korner with games and fun to keep the children entertained.
Several outstanding door-prizes
A raffle containing a complete set of all 53 Oktoberfest beer steins.
The ever so popular "Bier stein" Hoisting Contest for men and women. The winners receive three-liter Oktoberfest Beer Steins.
Souvenir stands where you can find a large selection of Oktoberfest related gifts.
Many other vendors that offer a variety of interesting merchandise.
Entrance Fees:
Advance Ticket Sale: Closed
Regular Ticket Sale: All of October and at the Door –
Senior Citizens 65 and older, Armed Service Members, and college students 12.00.
All others $15.00.
Children 15 and younger enter for free.
Lodging:
Lodging:
For those of you who plan to stay overnight we have partnered with the Fairfield Inn and Suites by Marriott, 11625 Lakeridge PKY, Ashland Va. (10 minute drive).
A RV campground is available as well. Please see the Meadow Event Park web site on how you can make reservations.
We are looking forward to celebrating with you!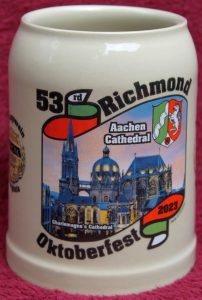 Brad Ewald
President
Anne Borass
Vice-President
Oktoberfest of Richmond, Inc.
Download Press Release
Information Regarding Volunteering
---
Media Kit